At Dancing Horse Hill we have been offering jump equipment for sale to the regional horse community for a decade. All our jumps are made from treated wood and assembled with screws and bolts as well as nails and waterproof glue for durability and long service. Schooling standards, rails flower boxes and jump cups are available. There is also a small wooden rail holder we call cavallox (used like the plastic Blox product but made of treated wood). We also take special orders for items such as walls, coops, gates and special purpose jumps such as corners and lunging standards. All prices are FOB our farm Dancing Horse Hill.
SCHOOLING STANDARDS
Schooling standards 4' high, $75/pair (each $37.50)
Schooling standards 5' high, $85/pair (each $42.50)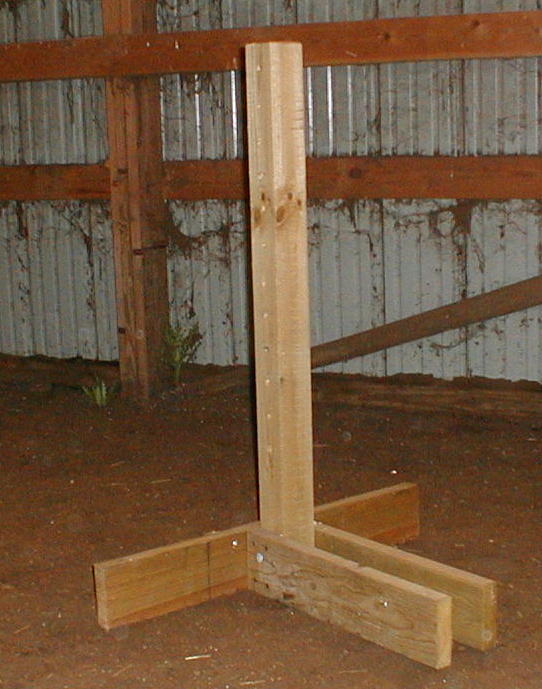 Because of the foot design of our standards, they can also be used to secure trot poles.
Our standards can also be used in pairs together to make a show standard when desired with a filler secured between the two standards. This system has two advantages. First, because the show standard breaks down to two school standards, you will have twice as many jumps when a show standard is not needed. And second, the standard is less heavy to move as each part can be moved separately rather than having to carry the whole of it at once.

RAILS
Jump rails are $18 each. Rails are 4" x 12'
The rails are round and treated; they are natural in color but can be easily painted if you choose to do it. A local manufacturer produces these poles from trunks of moderate sized pine trees. The bark is stripped and the naked trunks are put in the giant pressure vessel at the factory and the anti-rot compound is forced into the wood. The company does not use arsenic or metals for treating. Because they are tree trunks, there is a slight taper from one end to the other. When the manufacturer says 4" diameter, it means poles are at least 4" and may be a bit larger. The ones we have on hand are all 12' long but we will be glad to cut them down to 10' if you prefer than length.

JUMP CUPS
Jump cups are $13 per pair (manufactured by Potter Steel)
For your convenience, we offer jump cups from Potter Steel. These are very sturdy, weighing about 3 pounds each. Each comes with a pin. We also have flat cups used for walls or boards should you need them.
CAVALLOX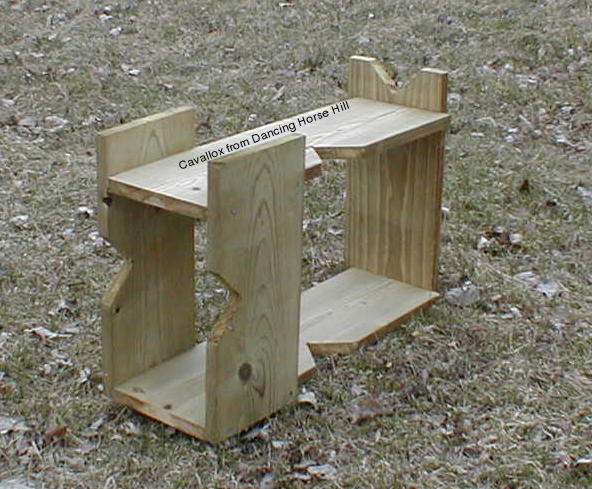 Cavallox are $45 per pair
We also offer a small wooden rail holder we call cavallox (used like the plastic Blox product but made of treated wood). Our cavallox can be set for 9", 16" and 24" heights. No jump cups are needed and they are light enough that you can easily carry a pair at once.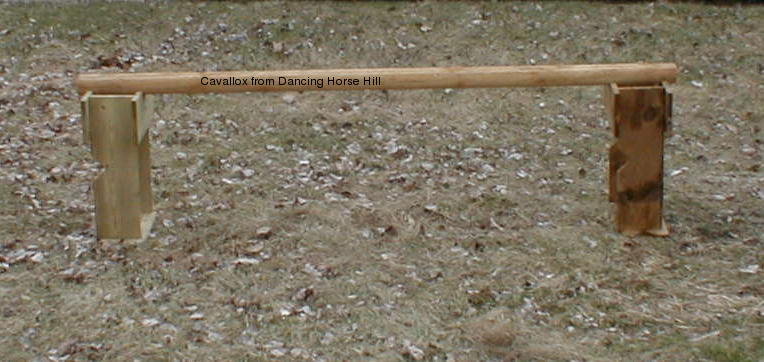 Cavallox are also available with dressage letters.

READY FOR EVENTING PACKAGE
Ready for Eventing package is $400
The Ready for Eventing package is a set of items which will give you a basic training package for your own stable or that you can easily store at the stable where you board. The package consists of a set of 8 cavallox (4 pair), each with one of the dressage letters stenciled on the side.
There is also one set of 4' standards, a pair of cups and 6 jump rails.
Set the cavallox up on the grass or in the sand ring in the standard dressage ring pattern and you have your own dressage ring to practice all your figures and patterns. Then, when you and your horse can't stand any more of that, take the cavallox and use them for small jumps or gymnastics leading to the tall standard set in a crossrail or a vertical with a placement. Combine one or two sets of cavallox with the standard for a double or triple oxer.
READY FOR DRESSAGE PACKAGE
Ready for Dressage package is $275 The Ready for Dressage package consists of 8 cavallox (4 pair) with 4 rails. Use the stencilled cavallox to mark out a dressage arena for yourself. Or use the cavallox at their 9" or 16" heights with the rails to help your horse learn to really bend those legs as you trot over.




SPECIAL JUMP ITEMS

If you are looking for a special jump item (e.g. coop, rolltop, flowerbox, gate, traditional cavaletti), feel free to phone or email and we will be happy to discuss your need. We recently designed an adjustable corner jump for one eventer and built a lunging jump standard for a trainer to use with her students.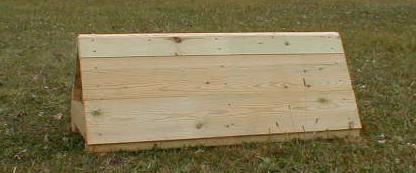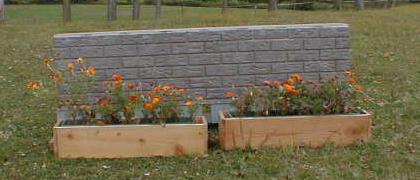 You can reach us by phone at 715-639-2641 or via email at robin@dancinghorsehill.com . I will gladly answer any questions.